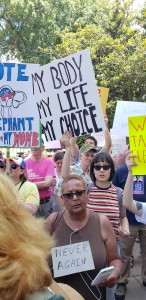 (APN) ATLANTA — The culture war is back as a wave of state-enacted abortion bans, including Georgia's HB 481, are working their way through the federal courts with hopes among conservative, anti-choice forces that one of these cases reach their ultimate destination: the Supreme Court of the U.S.
Somehow we seem to have traveled backwards in time on a woman's right to choose.  The time may be right to overturn the forty-six years old Roe v. Wade decision, now that President Donald Trump has packed the Court with anti-abortion extremists, Brett Kavanaugh and Neil Gorsuch.
As previously reported by Atlanta Progressive News, HB 481 passed by the Republican-controlled Georgia General Assembly on March 29, 2019.
http://atlantaprogressivenews.com/2019/03/29/legislature-passes-ban-on-most-abortions-in-georgia/  
HB 481 criminalizes abortion after a fluttering of Purkinje tissues can be heard at six weeks on a transvaginal ultrasound device inserted into a…
Original published: 2019-05-25 15:52:12 Read the full Atlanta News here
---
Some local news is curated - Original might have been posted at a different date/ time! Click the source link for details.